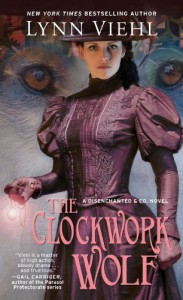 54 pages in and I really like this book. The Clockwork Wolf is the second in the series, I usually try to read a series in order but I saw this in the grocery store today and had to have it.
First off, I want the dress on the cover, gorgeous detail and color though a lot of purples were not fast until after the 20s? 30s? Enough on style.
The heroine, Charmian Kittredge, is a spellbreaker and the granddaughter of Merlin who is running her own business, Disenchanted & Co., which is the name of the first book. Charmian or Kit as some call her seems to be making her living by sorting out magical problems/crimes.
Taking on a new client at the behest of an old frenemy, the Lady Eugenia Bestly, who made Kit's life a living hell when she first moved to Rumsen, Kit must investigate why the newly late Lord Bestly turned into a "Wolfman" and went on a savage rampage before being killed.
Then there is the mechanical rat-bomb that she received in the mail...
I will be very disappointed if Kit doesn't live up to what's been written so far.